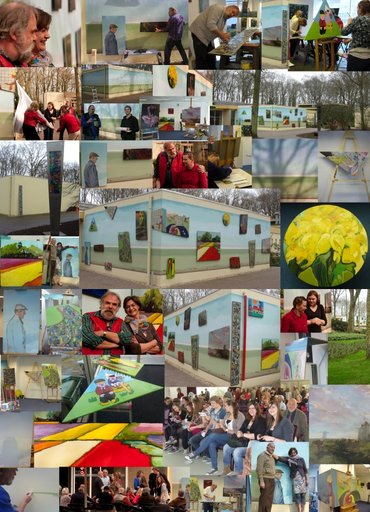 Wout Ruigrok & Iet Langeveld, both working and living in Lisse and both children of flowerbulbgrowers work together in their studio Plan4. At a reasonable walking distance (10 minutes) from Keukenhof you can find their studio/gallery at the mainstreet at the end of town square, where they are showing a great range of their work. Plan4: Heereweg 249, Lisse.
In the beginning of 2012 the Keukenhof invited us to create an exterior artwork to beautify the walls of the Julianapavilion. Therefore we designed and painted a landscape with a floating picture story in which we want to show a broad range of style and a signature that reflects some of our great culture in this small country. To make the story as broad as possible we invited some mentally disabled artists to join us in a project that was a great challenge and so much fun that even if you enjoy it half as much as we did, you can still discover a great piece of art. Kind regards, Wout Ruigrok & Iet Langeveld.
'BROADLAND' can be seen at the walls of the Juliana-pavillion in the Keukenhof, during the openingshours of the Keukenhof this year and the years to come.